If you were out at Lionhead Golf Course, or Royal Ontario Golf Course on Wednesday July 20th 2016 you would have seen fifty-six pink clad Miss Teenage Canada delegates at the driving range and on the practice greens getting golf lessons in skills training workshops hosted by the Bradlee Ryall Golf Academy.
The Regional Delegates each represent a different city, small town or region of Canada. Fifty-six of these young ladies aged 15 to 18 years old showed up at 9:30 in the morning and stayed until noon. They got about ninety minutes of basic golf instruction and then played a thrilling short game before getting a delicious lunch in the restaurants at the two different sites.
Bradlee was at Lionhead orchestrating the whole experience there from start to finish. He welcomed the crew off the bus in the morning and then led them out onto Driving Range at Lionhead for a beginners' pep talk.

Bradlee warmed up the crowd by asking how many of the teens had ever played a full game of golf before? And when only one hand went up he asked how many of the teens had played mini golf? Two more hands went up. So finally Bradlee asked how many people have ever even held a golf club and putted a golf ball into a cup or hole of some kind? Then everyone's hands went up, primary because this was an activity they had all engaged in three days earlier at the Opening Party on Sunday 17th of July at the hotel.
After these rousing introductions concluded, all twenty eight girls at Lionhead were then subdivided into three distinctly different skills training workshop centers. At each position, the delegates were taught driving, putting the ball and chipping, along with many of the finer points related to the mechanics of having a good golf swing.
Here's Bradlee at work running his skills training center on the driving range which he started by making sure each Delegate was gripping the club correctly.
This very basic first lesson is core learning and necessary to one day having a good golf swing. Bradlee led his squad in a lengthy drill where he made them practice their stance and grip and posture and memorize the proper arm movements – it was several minutes before any of them ever hit a ball!  In the end, this was the skills training center that mattered the most in the short game that was to follow…
Here's one of our favourite pictures of the day because it happens to include Sarah Wojcik, the 2015 Miss Teenage Canada titleholder.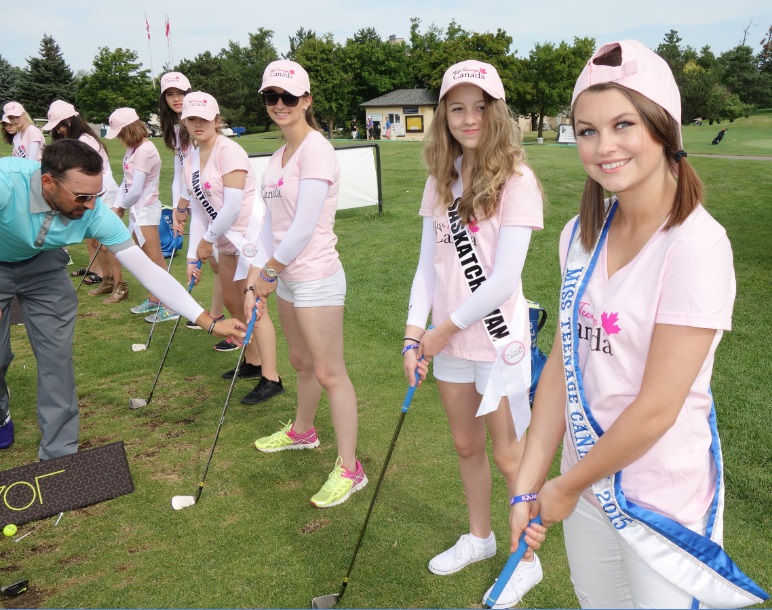 When you stop and think about it, Golf really is an ideal sport for the Miss Teenage Canada competitors to practice at together before they square off against each other on stage. This sport teaches persistence, honesty and grace and there were a lot of laughs all through the day.
Much of what was happening at Lionhead was also occurring at Royal Ontario Golf Course, but with different instructors on different terrain. You can see all three training centers getting started just after a rotation, in this image below.
All through our organization, and indeed throughout the entire golf industry there's a strong desire to get young people out playing the game again, the same way they flocked to golf courses back when Tiger Woods was a Junior winning Majors.  That's why we love teaching juniors. We work hard to set up good golf habits in young enthusiasts and help shape a golf swing that will benefit their game for the rest of their lives and make them fall in love with the sport because they think they're just naturally good at it.
CPGA Golf Instructor Mario over at the Royal Ontario academy was manning the putting station and using his good sense of humour to help teach the art & science of making more precise putts.
The Teens Played a Short Game of Golf
At 11am the squads at both golf courses reunited to play the shortest game of golf possible – a one hole game. On both courses this was advertised as a 'prize game' although the reward was kept secret.
The group game was designed to be played out by elimination over the length of one hole and hopefully come to a dramatic conclusion on the green opposite the clubhouse, but one delegate proved herself so superior to all other contenders at Lionhead that she was declared the winner immediately after tee-off. Here is a picture of Jordan before she won the competition.
One by one each delegate took her turn at the tee and had two chances at whacking the ball down the fairway.
Jordan won the short game at Lionhead simply by driving the ball a great distance down the fairway. Sadly, none of the other girls could match her powerful stroke, so all other players except Jordan were thus eliminated right at tee-off.
Lunch at Iggy's restaurant in Lionhead started with another ceremony further recognizing Jordan's achievement. She was dubbed Miss Teenage Lionhead 2016 and I'm sure there was a similar champion being recognized over at Royal Ontario too (but sadly no pictures and no names ever reached this reporter's ears). In the gift giving ceremony that followed, Jordan received a SWING junior golfers jacket which nicely complimented the SWING armbands Bradlee dispensed earlier, and a bouquet of roses!
As mentioned above, Jordan is a delegate from Manitoba where they do have plenty of golf courses, and after the competition she reported that her dad was a good golfer and this little victory was sure to make him smile.
Lunch at Iggy's in Lionhead Was Breathtaking!
Complimentary mango punch refreshments cooled the delegates down so they could relax and unwind after spending a morning outside in the hot July sun. Within minutes the bar counter top was laid out the cheesy bruscheta, mini hamburger sliders, seafood tacos and breaded shrimp. All the food was prepared on site by the chef and the killer kitchen staff at Iggy's at Lionhead.
That meal was delicious. We don't know how else to describe Iggy's superb cuisine – it really could be the entire focus of this blog post.
Each of the delegates caught up in the 2016 Search for Miss Teenage Canada had a fantastic experience that day and who knows, maybe at some point in the next few years when they're at college or university they will pick up a golf club again and whack a ball, and play with passion for the rest of their lives.
Save
Save
Save
Save
Save
Save
Save
Save
Save
Save
Save
Save
Save
Save
Save
Save
Save
Save
Save
Save
Save
Save